HOME > HISTORY > New S Mark known as the "Bullet"
HISTORY
New S Mark known as the "Bullet"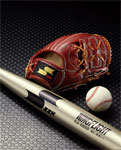 The "WING FLIGHT" aluminum bat - with its uniquely tapered shape at the head and larger sweet spot to accelerate bat speed, (yet still meet strict Japanese safety standards) was the first product bearing a new "S" mark known as "Bullet" logo. This unique S logo was registered as a trademark in Japan as well as in the USA.

The New "S" mark stylized letter symbol design expresses Strength, and Speed. Since 1987, all SSK baseball products proudly carry this unique product identity mark, moving away from the old SSK letter logo. The "WING FLIGHT" bat was overwhelmingly accepted, especially by high school players because of its lightness and ease in accelerating swing speed. The SSK bat was established as a must tool for these players.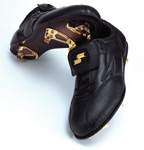 SSK continued to develop performance driven products. In 1997, the "SUPER NINE" baseball shoes with their nine spikes attached were developed to enhance the speed of today's player. In addition, the "SUPER SOFT GLOVE" was developed in 1999 for players who do not have the time to break in their glove. A game ready glove on the same day of purchase perfectly met the needs of recreational players.

In 2001, revolutionary moisture control undershirts named "S.C.Alpha" were developed in collaboration with a high-tech textile company. This shirt was 50% lighter than the traditional weight, thanks to sweat-absorbent and quick-drying features. We were a pioneer in this category.

Those new and innovative products with the SSK-Bullet logo have found success with today's players.