HOME > CHRONOLOGICAL TABLE
CHRONOLOGICAL TABLE
1990 (June)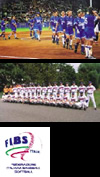 Signed Multi-year contracts as official suppliers to the Netherlands and Italy National Baseball / Softball teams.
1991 (Decmember)
Started distributing MLB goods and apparels under license agreement.
1992 (July)

SSK set up the Baseball Club House in the Olympic Village area during the '92 Barcelona Olympic Games providing the updated game information, displaying SSK baseball products and helping players by providing repair and maintenance. We served as Official sponsors of the Italian and Dominican Republic National Baseball Teams as well as a product supplier to the Spanish National Baseball Team. The inaugural SSK Luncheon Party was held and was attended by many celebrities.
1993 (March)
Elected one of the official sponsors from International Baseball Association (IBA) providing umpire uniforms and equipment.
1994 (December)

The inaugural "SSK Baseball Conditioning Seminar" was held. Coaches, trainers and players were invited from all levels. This seminar became a very successful event.
1995 (August)

Signed multi-year contract becoming the official supplier to the Nicaraguan National Baseball Team.
1995 (October)
Kyoich Sasaki, president was honored by the International Baseball Association as the "Corporate Executive of the Year" for SSK's contribution to the development and progress of baseball worldwide. The ceremony was held in Havana, Cuba.
1996 (July)

Became an official supplier of umpire equipment / clothing through IBA for the '96 Atlanta Olympic Games. SSK Continued to serve official sponsors of the Italian and Nicaraguan National Baseball Teams adding the Dutch Women's National Softball Team also. The Baseball Club House was set up again providing various services to baseball officials, managers, coaches, players and media. The second SSK-IBA Luncheon Party was held.
1996 (September)

The official SSK Website "www.webleague.net" was launched using the nickname of "Sports Forum in your neighborhood-Web League".
1997 (October)

The "Super 9" revolutionary 9-spike baseball cleat shoe was developed. The "Super 9" featured a "Better traction and accelerate Speed".
1998 (April)

Meeting needs of the modern baseball, SSK released the computer aided Scorebook game-"The Yakyu of the Baseball".
1999 (February)

The Super Soft Glove Series were introduced using a unique soft tanning technology. Super Soft Gloves required no break in time.