HOME > CHRONOLOGICAL TABLE
CHRONOLOGICAL TABLE
1980 (December)
SSK America Inc., 100% owned by SSK, was established in Los Angeles, USA.
1981 (April)
The SSK leather covered hard ball became the official ball of Japan High School Baseball Federation. College Leagues, Little League, Boys League soon followed.
1981 (June)
Signed Don Sutton, a right handed pitcher as an advisory staff member. Don Sutton was inducted at Hall of Fame in Cooperstown after career 324 wins in 1998.
1981 (December)

The annual "SSK Advisory Conference" was inaugurated, bringing Professional players together to evaluate products and help with new product development.
1982 (November)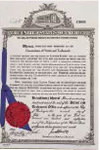 The "Dimple processed baseball glove" was awarded a US patent and obtained instant reputations from players.
1983 (January)
The Major League Commissioner. officially approved the use of dimple-processed baseball gloves for play in Major League games.
1984 (August)

Supplied the Dominican Republic National Baseball Team with gloves and mitts at the '84 Los Angeles Olympic Games. This was the first international team sponsored by SSK.
1986 (March)

Position specific "Catching Point" gloves were developed incorporating the installation of "Sorbit" shock absorbing pad. "Dimble Sensor Sorbit Glove" series became popular among players.
1986 (December)

The current insignia "Bullet S" was used for the first time. The "Wing Fight" Aluminum bat was developed. The unique tapered shape at head area allowing accelerated bat speed was immediately accepted by high school players.
1987 (April)
Company name was changed to SSK Corporation from Sasaki Co. Ltd.
1987 (November)
Brand identity "Bullet S" for baseball products was adopted.