HOME > PROMOTION > OTHERS
OTHERS
Supporting International Baseball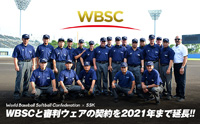 SSK has been the official supplier of umpire uniforms and equipment to the International Baseball Federation (IBAF) as well as the Baseball Federation of Asia (BFA) since 1993. Umpires worldwide have high praise for SSK products.
Supporting top professional players and umpires in Japan
SSK currently has advisory staff contracts with 25 high profile Japanese Professional players. We also support 64 players in the Central League and 62 players in the Pacific league with top quality equipment. Many players rely on SSK baseball products and we continue developing products to meet their uncompromising demands. SSK was chosen as the official equipment supplier to the Japanese Central League umpiring crews in 2005.